paid social media campaign optimisation delivers 15% growth in leads for SsangYong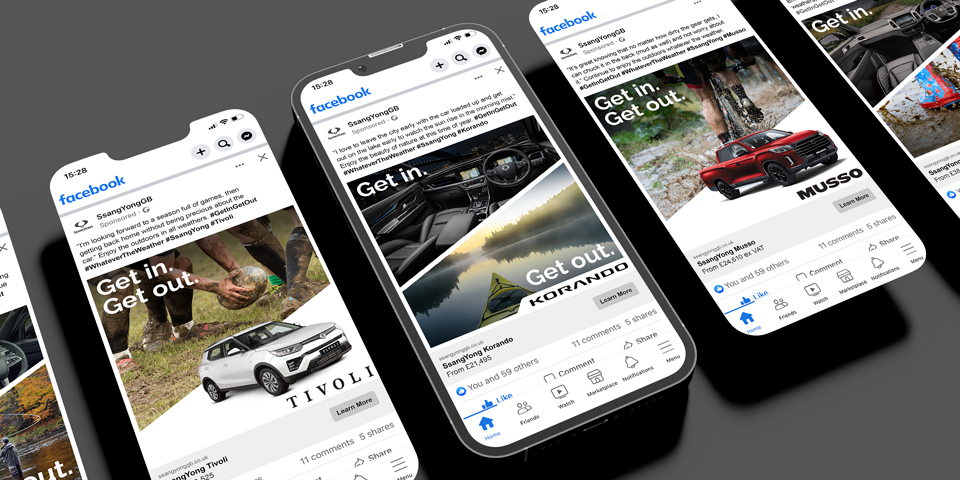 SsangYong is an established manufacturer of SUVs, 4x4s and crossovers that first entered the UK market in 1994. Over the years the brand has seen increasing levels of competition in these categories, so it was important that any new campaign activity clearly communicated what differentiates the brand and its products from the competition.
In addition to new product launch campaigns, SsangYong also runs seasonal brand awareness activity with a multi-channel media plan including social media advertising.
22
increase in website traffic
15
increase in the number of leads
"get in. get out." campaign inspires buyers with outdoor imagery and no-nonsense lifestyle messaging
challenge
Like all manufacturers selling within the UK new car market, SsangYong faced a challenging trading environment during 2022. The Society of Motor Manufacturers and Traders (SMMT) reported sales of just 1.61 million vehicles for the year, as supply was constrained by ongoing shortages of microprocessors and demand was impacted by uncertainty over the economy.
So it was more important than ever for SsangYong to focus its autumn brand awareness activity at its core target audiences, those that appreciate quality, versatility, and value. SsangYong traits that arguably equate to what any real sports utility vehicle (SUV) should be.
approach
The "Get in. Get out." social media advertising campaign targeting outdoors lifestyle enthusiasts first launched in the Summer delivering solid performance.
For the autumn season, various new concepts were developed focusing on the benefits and experience of SsangYong ownership. As these evolved the project team identified specific elements that stood out. The concept of a SsangYong becoming a sanctuary to come back to worked really well in the context of the colder months of the year. A new layered artwork style on the other hand gave more flexibility regarding messaging and would look stunning when applied to engaging ad creatives such as carousels.
Several further iterations showed that the "Get it. Get out." concept could be adapted to take on the best ideas to emerge from the creative process. We firmly believed that in this case optimising the concept was the best path to take, rather than switching to something entirely new. Previous campaign performance had been good, and consumers would be familiar with the top-level message.
Like any social media marketing agency, we strongly believe that we are only as good as our last campaign. As with any element of a client's marketing strategy we are always looking to see how we can positively influence performance through the creative process we follow and its outcomes. The engaging content produced by our studio for SsangYong highlights the importance of knowing your ideal customer and continuously working to refine your social media ads.
tom grocott, client services director at Visarc
The final creative showcased the high-quality yet rugged interiors of SsangYong's models and more aspirational lifestyle photography. The interior and exterior shots harmonised more effectively with the campaign strapline, the supporting copy intimating that SsangYong owners get out there and live their lives without being precious. Muddy boots and muddy dog? No problem. Rutted field to cross before you reach the lake? Easy.
Using a combination attractive lifestyle photography and to the point the copy, this social media advertising campaign showcased SsangYong's model range in environments that resonated with those that love the great outdoors. The creative portrays a fuss-free attitude, where a muddy carpet is nothing to worry about if you're making the most of life."
andy redman, head of creative at Visarc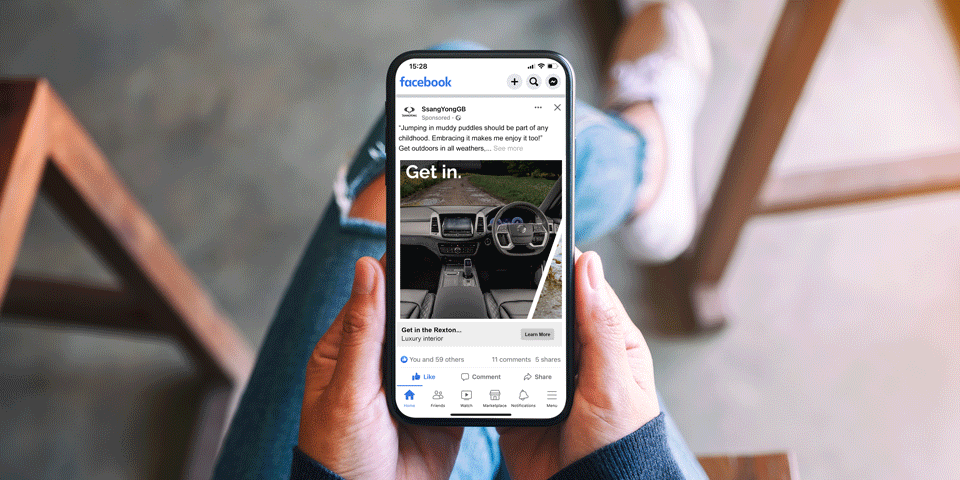 result
Shortly after campaign go-live across the Meta network/Facebook it became apparent that the latest evolution of the creative had really resonated with SsangYong's target audience. Typical clickthrough rates on paid social campaigns had previously sat between 0.9-1.3%. However, the revised "Get in. Get out." assets immediately surpassed this, topping out at 2.6% for certain model/audience combinations.
This increase in engagement, combined with refinements to targeting resulted in traffic levels increasing by 22% vs. previous campaigns, and total leads submitted across the SsangYong website increasing by 15%. The outputs from this successful campaign underscore the importance of the test, learn, and refine mantra we follow at Visarc, and the benefits of running ongoing brand awareness activity across social platforms.
As a challenger brand, paid social media ads play a crucial role in SsangYong's wider social media strategy. They allow the brand to target potential customers using granular attributes and a wide range of messaging. Visarc expertly supports the realisation of our social media marketing strategy, constantly working towards optimal conversion rates and a higher return on investment.
vanessa cox, director of communications at SsangYong Motors UK
get in touch with us and discuss your next project