Maserati targets SUV drivers with dynamic out of home media campaign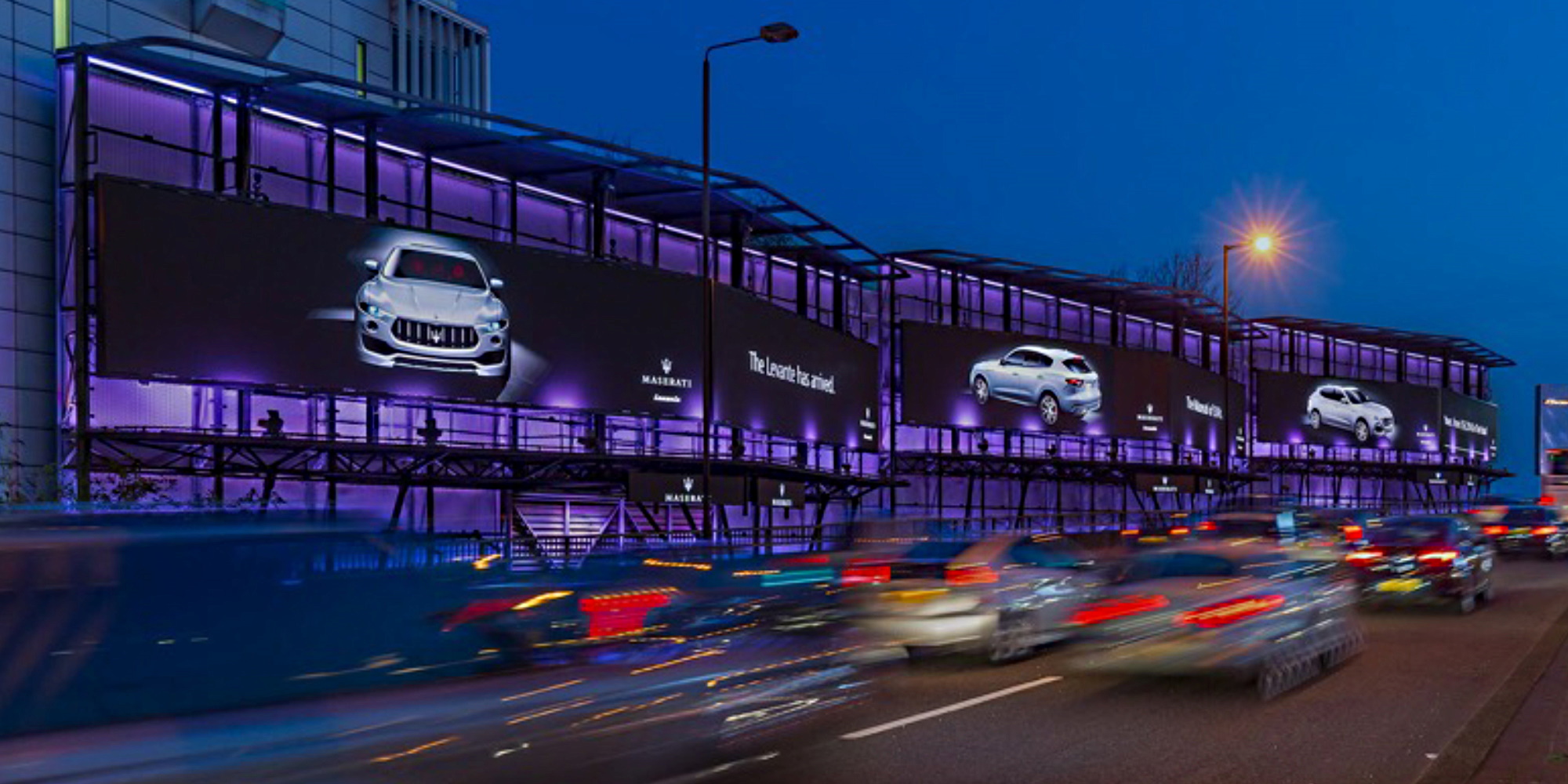 The Maserati brand has long been associated with dynamic grand tourers such as the Ghibli and high performance saloons like the Quarttroporte. However, with performance saloon car sales giving way to super-SUVs like the Mercedes-AMG G63 and the BMW X5 M, the team at Maserati knew that it needed to develop its own SUV to remain relevant and maximise growth opportunities. In the run up to the launch of Levante, Visarc collaborated closely with Maserati to ensure the campaign promoting the brands first SUV made a real impact. 
900
Drivers in ABC1 areas reached across entire OOH campaign
20
Registration numbers read, delivering real-time personalised messaging
vehicle recognition technology delivers highly defined targeting for automotive brands
challenge
The campaign objective was to raise awareness of the Maserati Levante and to target the likes of the BMW X5, and Mercedes ML/GLE. Research showed that many UK consumers believed that Maserati priced its models in excess of six-figures, which whilst certainly being true for the high performance variants such as Trofeo, it is not true for the range in general. Positioning the Maserati Levante against its BMW and Mercedes competitors would establish a better understanding of the Maserati Levante's real position and attainability. 
Being regarded as exclusive and luxurious was certainly not a problem, and to this day the brand has placed a global production cap across its operations, to maintain exclusivity and pre-owned values, However, gaining traction with a new model launch is vital and it was felt that the easiest people to convert to Levante customers would not necessarily be owners of top-end Maserati's such as the Quattroportes, but drivers of other similarly priced performance SUVs. OOH was selected as a core route to market. 
approach
As part of a highly targeted OOH campaign, Visarc and Maserati leveraged vehicle recognition technology at Digital Out Of Home (DOOH) locations such as Holland Park. The DOOH part the campaign targeted drivers of select competitor vehicles with real-time personalised messages. Licence plate recognition cameras identified competitor vehicles as they approached a selected location. In real-time, brand and model specific data was looked up and used in messages displayed to drivers of specific vehicle models. 
Vehicle recognition technology doesn't store any vehicle's data and it doesn't store any personal data. What it does do is connect with right audience, in the right place at the right time. 
For brands, the key takeaways are: 
Highly defined targeting; greater efficiency than standard out of home play-out as the screens are only hitting your core target audience, with absolutely no wastage.

 

Real-time activation; dynamic delivery which is based on an environmental trigger.

 

Cost effectiveness; brands are only paying for play-outs when the target vehicle is waiting at the lights. 

 
Holland Park Roundabout was the first ever Digital Out of Home advertising location in the UK to deliver real-time vehicle detection. 26% of the audience are from the super-premium AB demographic with top CACI Acorn groups being Successful Suburbs, Lavish Lifestyles and City Sophisticates. Beyond pure measure of affluence, data shows that people passing this location demonstrate a far higher than average interest in new and innovative cars. So they were the perfect audience to present with Maserati's first SUV.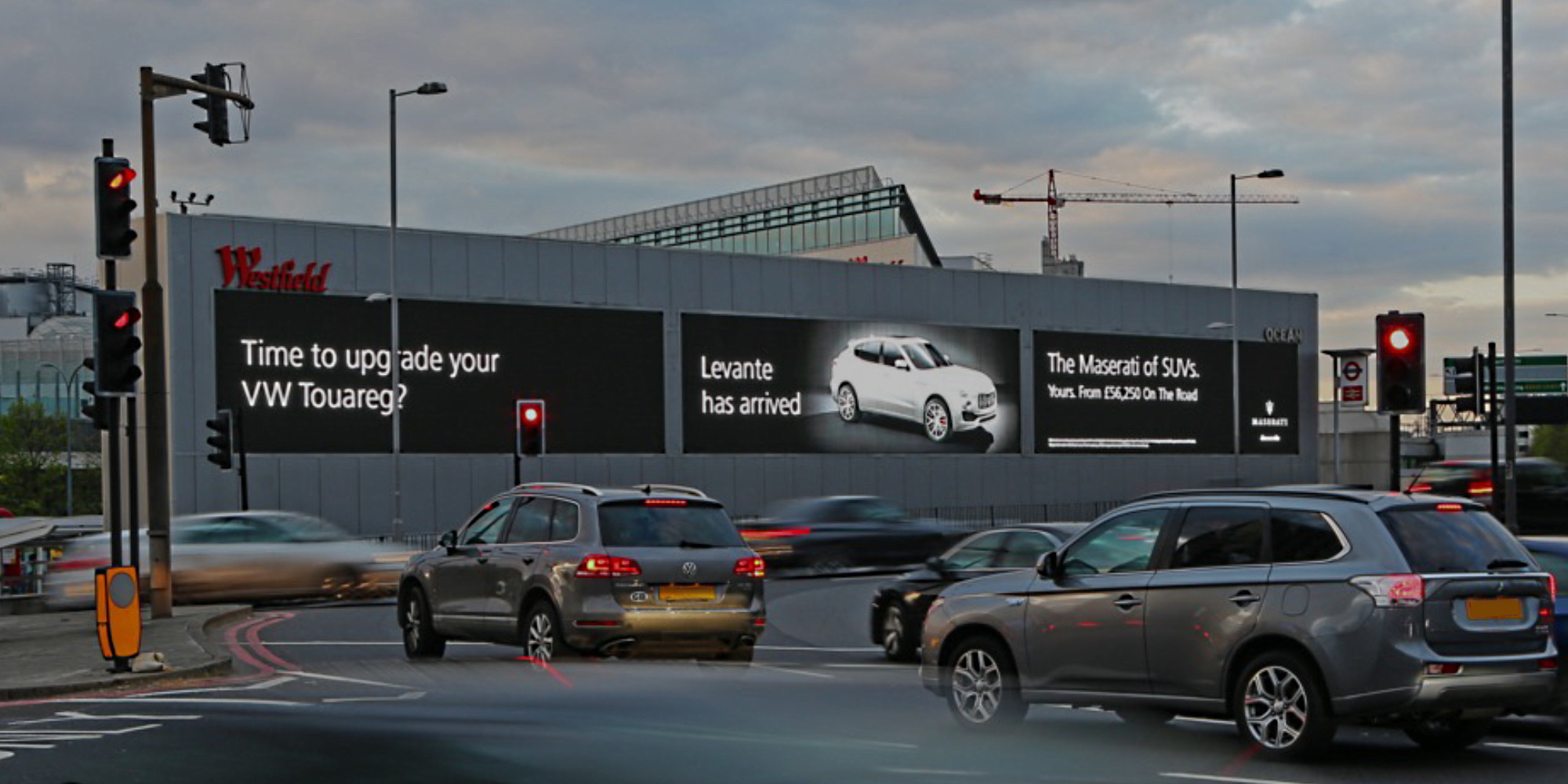 result
The campaign saw outdoor media placement using high impact sites in major cities across the UK. This included 14 days using Vehicle Recognition Panels in Holland Park, London, and Princess Road, Manchester. Maserati were able to target drivers of:  
Audi

 

BMW 

 

Infiniti 

 

Jeep 

 

Land Rover

Lexus

Mercedes 

 

Porsche 

 

Range Roger 

 

Volvo

VW

 
Maserati's team are extremely pleased with the targeting and the results from the campaign. The vehicle recognition technology at Holland Park worked particularly well and the location reaches the perfect demographic for a brand like Maserati. Westfield London is just around the corner, it is now the largest shopping centre in Europe, reaching more females in demographic group A than many other locations. Vital for Levante, which has been designed to broaden the brands appeal.
andrew ockenden, senior account director at Visarc
get in touch with us and discuss your next project