outstanding results for Piaggio Group UK digital marketing campaign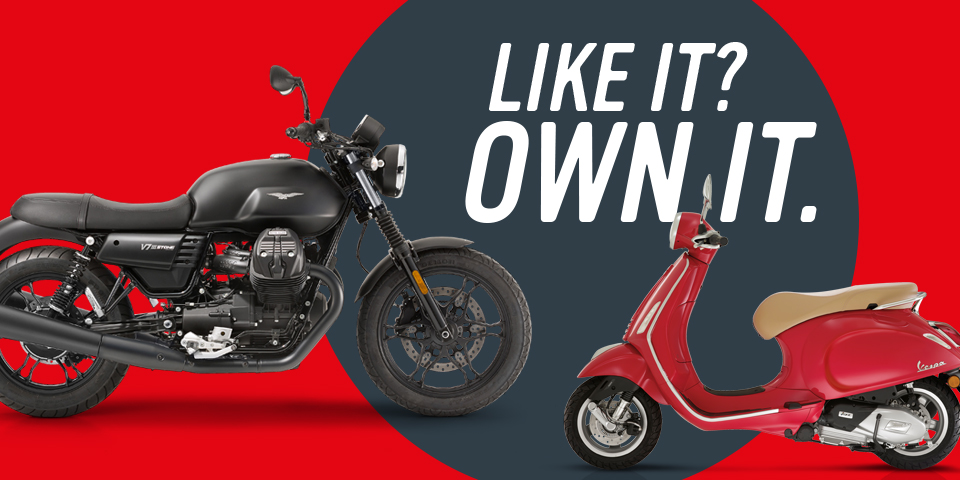 765
uplift in traffic across all channels
48000
Clicks via digital advertising campaigns
digital marketing campaign results
The results for our latest digital campaign for Piaggio UK are in and the performance has been exceptional. In just two months, the campaign generated:
765% uplift in traffic to the national dealer locator site across all channels
60% increase in organic traffic
70 Google rankings in top 10
25,000 clicks to the destination site from AdWords campaigns
10,000 link clicks to site from Facebook advertising
13,000 find a retailer event clicks
So what was it all about and how did we use digital marketing to tap into the target audience?
our brief
With motorcycle and scooter purchases declining in the UK, the challenge for our client, Piaggio Group UK, was first and foremost to raise awareness of newly launched finance offer packages across Vespa, Moto Guzzi, Aprilia and Piaggio so purchases are more affordable.
Working alongside Piaggio, we audited the tools at our disposal to identify a key campaign and agreed to focus efforts on driving quality traffic to generate leads.
We wanted to ensure that we produced a visually striking creative campaign concept that users could successfully engage with, while delivering results from SEO, AdWords and Facebook advertising.
our digital campaign solution
Using multiple platforms, the campaign was cohesively brought together through our creative concept: Like it? Own it. It featured a tactical SEO programme, with full-on page optimisation and technical SEO compliance, along with a dedicated AdWords campaign.
For Facebook, we designed an innovative multi-media carousel format with engaging and immersive video content. The campaign creative was adapted to suit each brand within the Piaggio portfolio range, which helped to create a buzz around the core special offers messages. To ensure targeted reach, we applied relevant filters to segment our audiences through demographics, interests and behaviours.
Using insights from an initial SEO research and discovery phase, the national dealer locator was updated with new brand-focussed pages and the newly created offers content. This was all executed under the same campaign umbrella, with keyword research informing and governing site structure and content development. Event tracking was also implemented to ensure we could report on local retailer search enquiries.
Another key consideration was ensuring we provided a legally compliant solution with bespoke special offers functionality to ensure representative data was displayed in a user-friendly way and within click access of the key promotional messaging.
Finally, we designed and supplied campaign assets for the official retailers to upload to their websites that would increase local awareness across the dealer network of the national campaign, maximise enquiries and generate sales opportunities.
get in touch with us and discuss your next project